In BETA!
Pulse Builder BETA launched April 2018. All Pulse users can now start building sites without coding. Upgrade to start using it.
Pulse Builder — coming soon for
webmasters
building Pulse sites

Drag and drop your way to a beautiful Pulse site, without coding at all.
Add blocks, fine tune with components and build gorgeous Pulse sites in minutes. Export as a Pulse template and upload to your Pulse site and let your customers loose on it.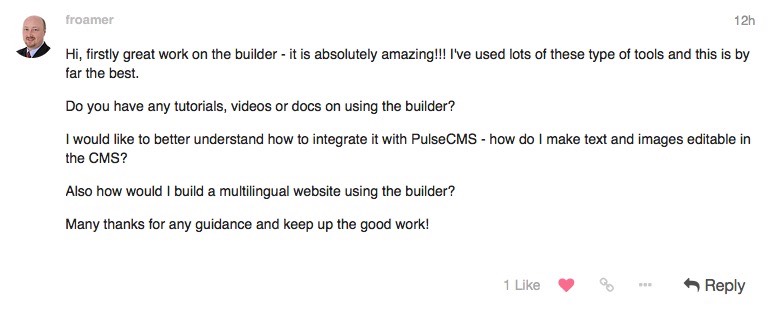 Love for Pulse Builder 😍
It's early days with the BETA release, but already users are enjoying building sites with it.
Start using the Builder »
Final Release Coming 2018 🚢
Have a Mac? You can also build Pulse templates with these great products:
Blocs
Blocs ↗
RapidWeaver
RapidWeaver ↗